This kicks off our "Camping" theme!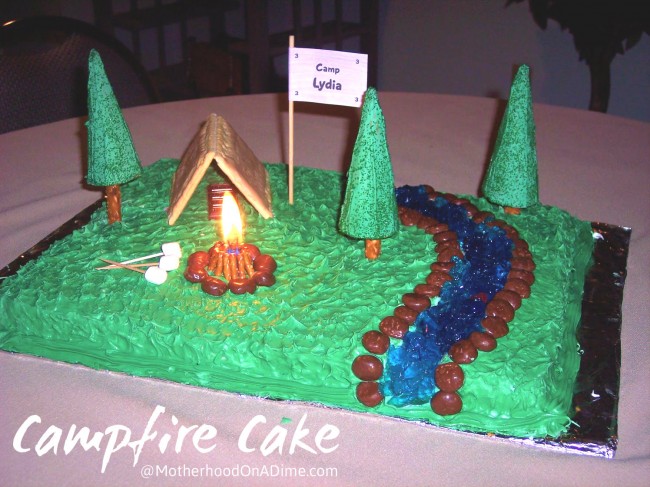 Camping Theme Cake

Ingredients:
2 9″x13″ cakes
Green frosting
Breakfast pastries
Chocolate candy bar
Green sprinkles
Waffle cones
Pretzel rods
Blue gelatin (made according to package directions)
Gummy fish
Chocolate candies
Candles
Pretzel sticks
Miniature marshmallows
Toothpicks
1)  Put two cakes together to form the base.  Frost with green-tinted frosting.  I used the bottom side of a spoon to "lift" the frosting up to make some texture (this is my way to hide my sorry frosting skills!).  Decide how you want to lay-out the campsite.
2)  Use two breakfast pastries to make a tent.  I put a rectangular piece of chocolate inside the tent for a sleeping bag.  Frost and sprinkle three small waffle cones for trees.  Allow the frosting to harden a little bit.  Poke pretzel rods into the cake for tree trunks, and then balance the cones on the rods to complete the trees.
3)  Using a spoon, scoop out the cake to form a stream.  Fill with blue gelatin.  Place chocolate candies bordering the stream (we used Milk Duds).  You can also put gummy fish in the stream.
4)  Form a campfire by placing several candles close together in a circle.  Lean pretzel sticks in towards the candles (leave some space, so they don't get singed when you light the candles!).  Use more chocolate candies to form an outer circle around the pretzels.  Place mini-marshmallows on toothpicks and arrange by the fire.
I added a campsite flag to the Campfire Cake as a finishing touch for the birthday girl!