Each Thursday, I will be reposting our lessons from last year.  If you want to follow along with us, we'd love to have you!

Considering purchasing the complete download of God's Little Explorers?  You can find out the top 10 differences between the weekly free preschool lesson plans and the complete download here.
Welcome!  Here are this week's lesson plans.  You can find the printable plans at the bottom of the post.  If you'd like to know more about God's Little Explorers Preschool Curriculum, head over here.  Please feel free to share your ideas in the comments or send me an email!  Also, if you find any errors, please feel free to let me know.  This is a work-in-progress!!
God's Little Explorers Week 24
Theme:  "m" is for Money
Bible Story:  Various (Zacchaeus, Jesus at the Temple with Money Changers, The Poor Woman's Fortune)
Bible Verse:  "And my God will meet all your needs according to his glorious riches in Christ Jesus."  Phillipians 4:19 NIV
Letter: m
Color:  Brown
The Bible includes so many stories about money…and has a ton to say on the issue.  We started early with our girls.  They each have a bank that is separated into sections:
This Give, Save, Spend bank is from Dave Ramsey.  It doesn't look like it's available any longer, but the Financial Peace Jr. Kit includes special envelopes. *It looks like you can get Juniors Giving Bank at CBD!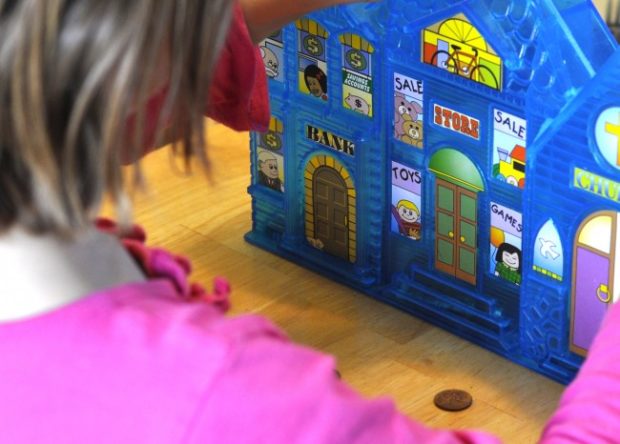 I also like this bank from Crown Financial Ministries, but you don't really have to have a bank like this.  We just gave these to the girls one year for Christmas.
You can easily use some jars and tags like this great idea (which includes printables) and you are good to go!
We sorted coins by pennies, nickels, dimes, quarters, and dollar bills.  You can find a simple "coin sorting mat" here.
My oldest daughter put some garage sale tags on various items in our home and had my youngest daughter play store.  She had a ton of pennies and used them to "buy" items.  The prices were all below $0.25 to make it easier.
I showed my daughter how to do coin rubbings, and she did them on the printable letter m (included in the download).
We also made patterns with money.
Other ideas:
Use the included chart in the download to distinguish between wants and needs.
Clean pennies in vinegar.
Predict heads or tails.  Then flip a coin to see which you get.
Download God's Little Explorers Week 24 Lesson Plans