I just wanted to remind you that my eBook Thanksgiving Heart:  Cultivating Gratitude in Young Children All Year Long is on sale now!  Through tomorrow, you can access it for just $1.99.

Did I mention it has printables?!!
Just wanted to be sure!  😉
They happen to be one of my favorite parts of the book!  You'll get a:
Gratitude Journal
Scripture Reading & Activity Guide
Incentive Chart
Fill-in-the-Blank Thank You Card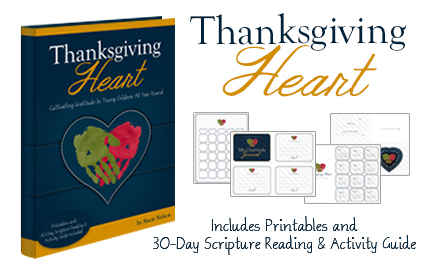 If you
buy the ebook through Amazon
, you still have access to the printables.  Just read to the back of the book and get the password.  Follow the directions and download them!
**********************************
I'm so grateful for those of you who are supporting me in this endeavor, since my sister and I worked so hard to get this ready for you!  I just really felt led  to write about gratitude.  It's something we don't often think about…except around Thanksgiving, but it plays a crucial part in our mental well-being and it's essential to getting through the trials in life well.
While it would be nice if a heart of gratitude just came naturally, for most of us, it is a habit that must be cultivated daily!
Be sure to either pick up the book or share about it, and then head over here to enter to win a $50 Amazon.com Gift Card (just in time for Black Friday sales)!