Have you signed up for Walmart Savings Catcher?  It's FREE to join!  Basically, if a local competitor has a lower advertised price, you get a Walmart eGift Card for the difference on qualifying purchases.  You can register your phone number with your account, enter it at check out and that's it!  Walmart will compare prices with local competitors, such as Aldi or Kroger, and give you the difference. 
The other option is to scan your receipt on the Walmart app or enter your receipt number at SavingsCatcher.com.  Either way, it's a FREE eGift Card from purchases you'd already be making.  You can still use coupons, too!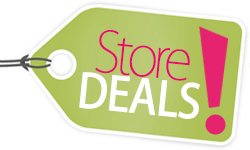 Savings Catcher FAQs: (Please refer to the Terms of Use for additional details.)
Is there a minimum purchase required? No. There is no minimum purchase requirement. Simply submit your receipt to get started.
How many receipts can I submit? You can submit up to 7 receipts per week to Savings Catcher.

What types of promotions does Savings Catcher include? Savings Catcher compares eligible items on your receipt to items found in the print and digital weekly ads of top retailers in your area. The ads must be valid at the time you made your Walmart purchase and include a specific item price.

What types of promotions does Savings Catcher not include?  Savings Catcher does not compare the following types of offers:

Items that require a separate purchase to get the advertised price (example: "Buy oatmeal to get cereal for $1.")

Items with no actual price that require a purchase to get a free product (example: "Buy both oatmeal & cereal to get milk for free.")
Items that require a purchase to get a gift card (example: "Buy a 12 pack of paper towels to get a $5 gift card.")
Buy one get one free (BOGO) deals where no item price is listed (example: Peter Pan Peanut Butter, buy one, get one free. Save up to $2.50.")
Going out of business or closeout prices.
Percentage off (example: "All mascara, 40% off.)

Does Savings Catcher apply to my online purchases?  No. Savings Catcher applies to your in-store purchases only.

Do my savings accumulate?  That's entirely up to you. You have the option to accumulate your Rewards Dollars and build your balance in Savings Catcher or transfer it onto a Walmart Rewards eGift Card whenever and as often as you choose. If you haven't redeemed your Rewards Dollars at the end of the calendar year, Walmart will automatically transfer them onto a Walmart Rewards eGift Card and notify you.

What happens if I use coupons?  No problem, you can still use Savings Catcher. If you use a coupon, Savings Catcher will compare the original Walmart price of the item, before the coupon was applied, to other stores' advertised prices for the same item. For example: You bought cookies at Walmart. The shelf price was $3 and you used a coupon for $0.25, so you paid $2.75. If Savings Catcher finds that a competitor advertised those same cookies for $2.00, Savings Catcher will still credit you $1.00, even though you paid only $2.75 at Walmart.

Can I submit old receipts?  Your receipt needs to be 7 days old or less. For example, if you shopped on Tuesday, you have until the following Monday to submit your receipt.

Does Savings Catcher compare all items on my receipt?  Savings Catcher applies to many items sold at Walmart stores. This includes:

Most groceries such as cereal, rice and most fruits and vegetables except for: store brand items, deli, bakery and weighed items like meat.
Consumable items such as paper towels, bleach and trash bags.
Health and beauty items such as shampoo and makeup.
Select general merchandise items.

Savings Catcher does not currently apply to:

Store brands, deli, bakery and weighed items like meat.
General merchandise items, (including, but not limited to, electronics, media and gaming, toys, sporting goods, housewares, small appliances, home décor, bedding, books and magazines, apparel and shoes, jewelry, furniture and seasonal products).
Non-branded items.
Tobacco, firearms, gasoline, tires, prescription drugs, optical and photo products and services, or products that require a service agreement such as wireless, automotive or financial products.
View your Reward Dollars on the full site in the Savings Catcher Savings Summary. If you're using our app (and have already scanned at least one receipt), tap "Your Reward Dollars" from the home screen.
Is there a limit to the Reward Dollars that I can earn?  With Savings Catcher, you can earn a maximum of $599.99 Reward Dollars per calendar year. (This value represents your total earnings, irrespective of whether or not you have transferred your Reward Dollars to an eGift Card.) If you're close to this limit and submit a receipt, you'll be issued a partial amount so as not to exceed the annual maximum. For example, if you have already earned $598 in Savings Catcher Reward Dollars, and then submit a receipt for which you should be issued $2.50, only $1.99 will be issued.

How do I redeem my Savings Catcher Reward Dollars?  You can choose to transfer your Savings Catcher Reward Dollars to a Walmart Rewards eGift Card that you can use at any Walmart store or on Walmart.com.