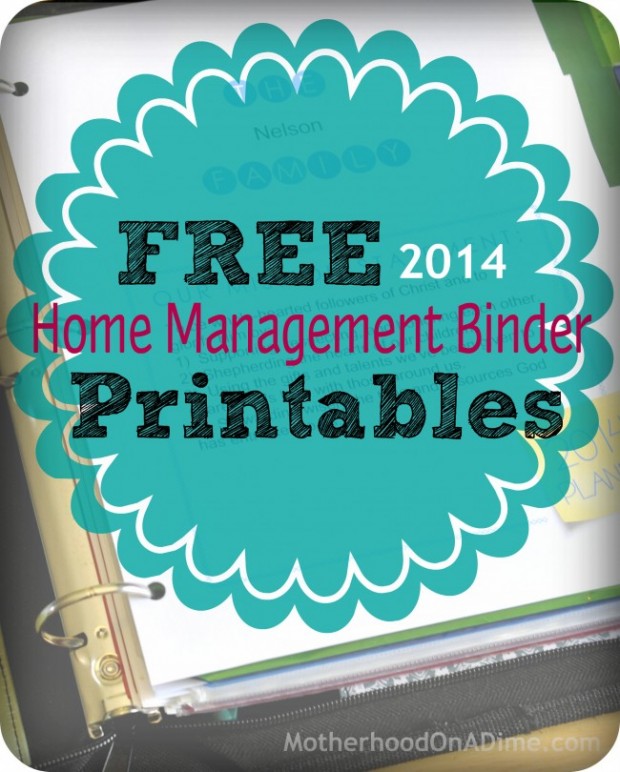 Several years ago, I began putting together a home management binder.   It's actually pretty simple compared to some of the more elaborate chore and life planners I've seen, but I thought I'd give you a quick tour (and share some free home management binder printables for 2014 with you)!  Scroll down to the bottom of the post to find out more.
Putting Together A Home Management Binder:
First, I found a pretty zippered binder that I love.  If I have to look at it every single day, I want it to be somewhat cute!  Right at the beginning of the binder is my mission statement–I want to live life with purpose and focus. It's easy to get side-tracked, so I put it right at the front of the binder so I will see it every day and remember what I want to be about. This sheet is the only one that is editable.  You can add your family name and your own mission statement.
To divide the sections of my homemaking binder, I purchased a package of Avery dividers that have pockets in them. I LOVE having the pockets for papers I need to fill-out, items I need to remember, schedules, bills, my checkbook, and more!
I included five sections in my binder:
Home
Calendars
Recipes
Kids
Bible
I used to have a blogging section, but I needed more room, so I put all my blogging stuff in a separate binder.
HOME Section of My Home Management Binder:
First, I've included a goal checklist.  If you would like more information about setting goals, you can see my brainstorming questions and another printable goal form here.  I hope to get mine added within the next few days!
I also have an important date list to add birthdays and anniversaries.  I've also included the Chore Chart checklist in the home section of the binder. One way to use it would be to fill out your monthly, quarterly, and annual chores. Slip the sheet into a page protector and mark the date you complete each chore with a dry erase marker!
CALENDER Section of My Homemaking Binder:
The printable weekly calendar is my favorite part of the binder…and where I usually have it turned to during the day. I record appointments, my to-do list, and any part of our menu plan that I need to prep for (if I need to pull hamburger out of the freezer the night before, etc.). Each day also includes a checklist. I *try* to check off when I finish cleaning the area for that day (bedrooms, bathroom, kitchen, living area, etc.), Bible study, exercise, vitamins, water, and load of laundry.  It's much easier to keep up with the laundry if I do a load every day (not that it always happen–but I'm trying)!!
I realize that not everyone wants the checklist at the bottom, so I've also included a weekly planner with a larger menu space and no checklist. Both the weekly calendar with the checklist and the weekly calendar without the checklist come in the download.
New this year, I've added a free daily calendar for those of you who would rather plan out your day in detail (instead of the week).
RECIPE Section of My Home Management Binder:
Use the recipe reference printable page to record some of your tried-and-true recipes. You can also look at this sheet when you're having a tough time thinking of something to make. You may also want to use it for recipes you want to try.
I keep loose recipes I've torn from magazines stored in page protectors until I can try them to see if we want to add them to our repertoire.
This printable menu planning sheet was new in 2013, and I love it! It includes room for breakfast, lunch, and dinner, and has a grocery shopping list on the side. I think it would look nice on the refrigerator, as well.
The grocery list area includes a small box you can check if you have a coupon for that item. I personally write down where to find the coupon when I'm making my weekly menu plan. For instance, if a coupon I need is in the Red Plum insert from December 10, I'll just pencil in RP 12/30.   You can always just put a checkmark in the box so you remember that you have a coupon for that item, too.
When it's time to go shopping, just cut off the list and take it with you!
Right now, I'm currently using the Paleo menu plan from eMeals, so that is included in my binder, too. I have page protectors storing each week's meal plan.
KIDS Section of My Home Management Binder:
New this year, we've added a printable form for babysitters.  Simply fill it out and leave it with your babysitter to let them know special instructions for your child(ren).
I also have a monthly calendar I'm using to plan out read alouds, field trips, service projects, and kids activities.  The download includes calendars for all twelve months–Jan. 2014 to Dec. 2014.
The kids section includes a schedule. You can either use one sheet for everyone in the family and fill out a Monday-Friday schedule or fill out a daily schedule for each person in the family on one sheet. I did a basic schedule for all of us on one page.
The last part in my kids section is an idea list. This list could actually be used for anything: sewing projects, house projects, Pinterest projects, etc. I chose to go through our resources and make a list of activities the girls could do. I slipped it into a page protector, so I can cross off activities we complete with a dry-erase pen. Once the girls have done all of the activities, I can just clean of the page protector and start again!
The Bible section is the last part of my binder. Right now, it just contains lined notebook paper for taking notes and journaling!
So, that's my simple home management binder. It's nothing too fancy, but it's working well for us!  If you want to see a quick tour of my binder from a few years ago, you can find a video on YouTube.  I do need to update since I've changed a few things, but you get the general idea!

Due to popular demand, I am giving away my 2014 home management binder printables for FREE to email subscribers! To get them, just go here and pick a subscription option. Be sure to confirm your subscription through the link they will send you. Then, shortly after you confirm, you should receive another email with the link to the download.

I realize that not everyone is interested in getting my daily email updates, so you can purchase the printable set of 8.5″ x 11″ pages for just $2.49. If you'd like to purchase a set, please just click on the button below!

27 Pages of Home Management Binder Printables for $2.49

Homemaking Binder Download Set

There are a total of 27 8.5″ x 11″ pages included in the download:

Customizable Cover
Important Dates
Chore Chart Checklist
Recipe References
Menu Planner
Idea Checklist
Weekly Calendar (2 Versions)
Daily Calendar
Babysitter Form
Schedule
Goal Sheet
Monthly Calendars for 2014

Happy Homemaking Binder Making!!
P.S. If these printables are helpful to you, would you please consider sharing this post via Pinterest, Twitter, or Facebook! Just click the share button below the post or on the side of the page! Thank you so much!
Please note: These printables were created by Shelly Fraley at SolPhoto.co. This set is copyright-protected. Please feel free to make copies for yourself but share this blog post with friends so they can get their own! Thanks so much!