I don't know about you, but this year is flying by for me! While we're enjoying the lazy days of summer and having some fun in the sun, I'm already thinking about school starting soon! Here in Arizona, the kids go back to school in the beginning of August! It hardly seems possible …. I mean, summer just started, right?!
Speaking of summer, is there anything better during these dog days than a cold, refreshing drink? For some reason, fruity drinks really appeal to me when the temperatures start rising! Maybe they implore you to drink them too?!  😉 They just say "summer" to me. Not to mention, I just love the "freckled" look of any strawberry drink!
With the 4th of July just days away, I wanted to share a fun drink – one that's sure to be a hit with the kids and adults alike! It literally takes a few minutes to have this little treat to sip on! Let me tell y'all how to make it :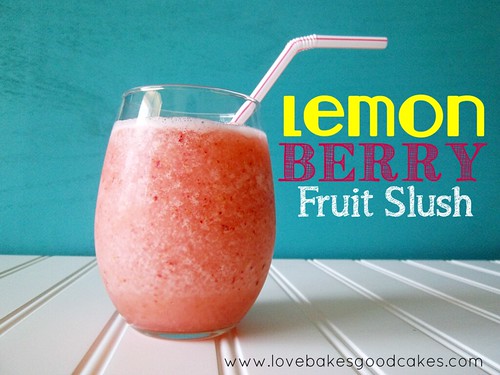 Written by monthly contributor, Jamie at Love Bakes Good Cakes.
Lemon Berry Fruit Slush
Yield: 2 servings
¼ cup lemon juice
1 cup water
1 cup strawberries
¼ cup sugar (or more to taste)
12 ice cubes
Place all ingredients in a blender. Cover with the lid. Blend until smooth. Serve!
Don't forget to share and comment ♥
Until next time!