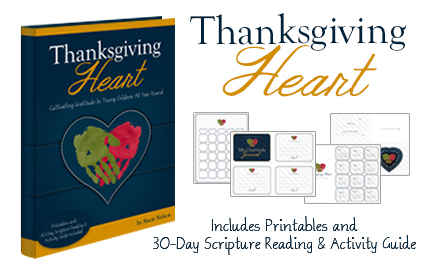 Purchase the eBook Thanksgiving Heart:  Cultivating Gratitude in Young Children All Year Round for just $2.99 on Kindle here.
**********************
With practical ideas, faith-filled stories, and a heart for moms with young children, Stacie Nelson shares simple ways she's growing gratefulness in her own life–and in the lives of her three girls.
This is not a book with activities or ideas for Thanksgiving Day; nor is it a book with a prescribed formula or twenty-step program to make your child grateful.  Instead, Thanksgiving Heart gives simple, practical ways to guide and train your children in growing a grateful heart all year long.  It's about learning to giving thanks in ALL things at ALL times.
The eBook includes:
Practical ways to encourage thanksgiving in children.
30 service projects
15 gratitude discussion starters for families
Application questions at the end of each chapter.
Printable 30-Day Scripture & Activity Guide
Printable Gratitude Journal
Printable Thank You Card
Printable Incentive Chart
Read about the launch of Thanksgiving Heart and get to know a little more about Stacie and her inspiration for the eBook here.  
What others are saying:
"One of the greatest challenges in parenting is teaching our children to be grateful. In Thanksgiving Heart, Stacie gives parents a deeper understanding of the importance of cultivating gratitude in our children along with beautiful and practical tools to help us do just that!" —Kimberlee, The Peaceful Mom
or share a Tweet


In Thanksgiving Heart, you'll learn that giving thanks doesn't depend on your circumstances; instead, gratitude is a habit that can be cultivated daily by verbally expressing your blessings, living simple lives with plenty of time and space to give thanks, serving others with joy, and keeping a written record of thanks.  You'll find practical ways to grow in thanks with sixty-six pages of stories, encouragement, quotes, printables, and useful tips to help you along your journey.
Did you enjoy the book?  Consider becoming an affiliate and sharing the eBook with others!   
Please note:  This is a digital book – an eBook.  Because it is a digital product, refunds are not available.  This is not a book that you will receive in the mail!  🙂