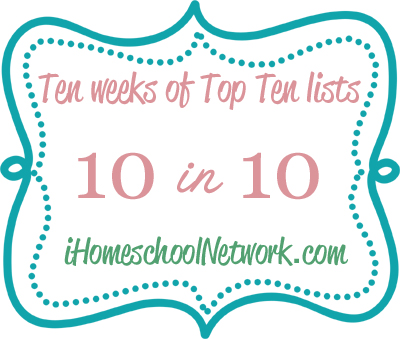 Every year around this time, I start to get excited for back-to-school.  I remember even as a child loving this time of year.  Once I began teaching, I loved it, too!  Now that we're homeschooling, I still love it!
Here are ten things I'm excited about:
1)  Rewriting our homeschool mission statement and setting new goals.
You know I've shared a little bit about writing a mission statement and setting goals as a mom.  It's important to have a mission and set goals for homeschooling, too.  If you don't know where you are going, how will you know when you get there?  I'll be sitting down with my husband to brainstorm and prioritize the top goals for each of the girls this year.  I'll also be having a one-on-one time with each of the girls to see what kind of goals they want to set.
2)  Organizing our homeschool classroom.
Over the next few weeks, I'll be sharing more about our organization process, but I just love organizing and reorganizing our school books, supplies, learning bags…and everything in our homeschool room!  You can find all of my organization ideas here.  I also have Pinterest boards on Organizing Craft Supplies and Organizing Your Life.
3)  Brainstorming and nailing down our homeschool schedule.
This summer has thrown me for a loop!  Our daily schedule has been so crazy, I'm actually looking forward to the *break* that a regular schedule brings for us.  I'll be posting our schedule in the next few weeks, but here is a look at our old preschool daily schedule.
4)  Beginning our history study from Creation to the Greeks.
We use a curriculum called My Father's World, but I also add other books and ideas to it.  One of my weakest areas is history (I don't know if I just didn't learn anything in school about history, or if I just didn't pay attention).  Anyway, I've added a book called The Mystery of History to our curriculum and it's so engaging.  My oldest daughter wants to read it all now!
5)  Buying new school supplies.
I love buying new school supplies!  There's nothing like a brand-new box of school supplies to make the year seem new.  Be sure to check out Deals section of the blog over the next few weeks, because there will be all kinds of school supply deals listed.
6)  Studying the Old Testament together.
As part of our curriculum, we'll be reading through Celebrating Biblical Feasts: In Your Home or Church
and holding our own feasts at home.  We're also adding a special Grapevine Studio Old Testament study.  We are currently drawing through Esther, and the girls are learning so much.  Even my 4-year-old is able to draw the stick figures (they're cute!) and remember the story timeline with us.
7)  Teaching my two youngest girls to read.
I'm excited about this…and nervous at the same time!  My middle daughter has already started the process and has quite a few three and four letter words, but we'll also be doing Pre-K/K curriculum with my youngest daughter. 
Yes.  I feel a little overwhelmed, but I love to teach reading.  It's such an exciting transition from non-reader to reader! 
I'll be sharing more about our curriculum later, but I'm currently using All About Spelling to teach reading to my middle daughter.
8)  New books and lots of time to read aloud.
I remember daydreaming as a young mom when the girls were babies and toddlers about the days we would curl up with a good novel and read it out loud!  That day is finally close by, and I'm so excited about our selection of books for the school year.  Here are just a few of them:
We'll also be picking out some "just for fun" books to read aloud with help from Read for the Heart: Whole Books for WholeHearted Families.
9)  Pajama Days!!
Need I say more?!!  Some days, I'm a lazy mom!  And yes, some days, we have school in our pajamas!
10)  Growing together as a family.
I wrote about this when I answered the "Why do you homeschool?" post, but one of the things I'm excited about this year is bonding together as a family.  We'll do all kinds of projects, read together, serve together, fight together, and grow together!
Are you excited about anything for the upcoming school year?
This is post is part of the iHomeschoolNetwork 10 in 10 Blog Hop.  Also, be sure to link up your post and/or check out the other participating blogs over at Many Little Blessings!