Guest Post by Desire from When You Rise
Bring the Bible to Life for Your Kids!

Have you ever sat down to read a Bible story to your child and their eyes immediately glaze over?  I'm so glad that God's Word is alive and active, because with 2 young boys I've found that often the best way to help them understand it is to let them experience it!  Thankfully, I've also found that most of the items I need to do that are lying around my house!
Here are some ideas I like to use best:
Costumes:
Hand towels/stretchy headbands
Old sheets, blankets, and dresses that you'd otherwise donate or pitch can be turned into makeshift robes with a few snips of the scissors and some twine or rope for a belt
(Both of these can be used to portray almost any Bible character, male or female)  
Princess play clothes (Queen Esther, Egyptian Princess who found baby Moses)
Large Props:
Boats:  (Noah's ark, Jesus calls disciples, Paul's shipwreck)
Coffee tables
Long laundry baskets
Beds
Couches
Ottomans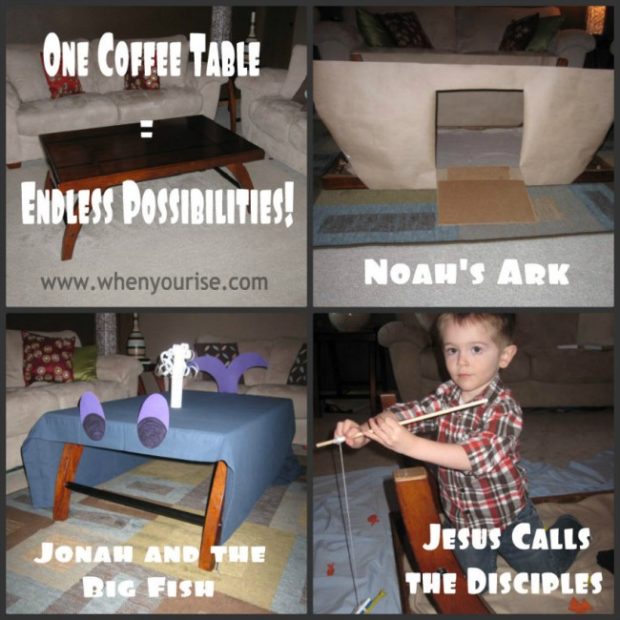 Buildings:  (Temple, palaces, homes)
Tents
Homemade forts
Under the kitchen table
Large cardboard blocks
If you can get your hands on one, a large appliance box can also be perfect for creating a boat or building and provide the opportunity for kids to decorate with paint or markers too!
Small Props:
Weapons:  (David and Goliath, Peter in the Garden of Gethsemane, Various battles in Israel's history)
Pom-poms or marshmallows for stones (David and Goliath… no injuries when these stones are thrown!)
Sword (These can often be found in $1 sections of stores or simply cut from cardboard – add some aluminum foil for extra effect!)
Shepherd's Staff:  (Moses' staff, David, Shepherds from Nativity)
Use clear packing tape to tape a few paper towel tubes together to make a "stick."
If you live near a wooded area, look for a tree limb that could be used for this.
Music:  (David, Battle of Jericho)
Tambourines/Horns (If you don't have your own, make them!  This website has some good ideas for instruments you can make with household items).  
Baby dolls:  (Baby Moses, Nativity)
Grab one the next time they're on sale or pick one up at a garage sale if you only have boys like I do.
Baskets:  (Baby Moses, Nativity, Jesus Feeds 5,000)
Animals:  (Creation, Noah's Ark, Nativity)
stuffed animals
plastic figurines
(We often combine 2 inch plastic animals with oversized puppy-dogs to help us create our animal scene!)
Tonight before snuggling with a Bible story at bedtime, consider getting ready for bed 15-20 minutes earlier and acting out your story first.  Watch your kids eyes light up when you tell them "Let me have it" with their pom-pom stones as they defeat the big, bad giant (aka, you!).  Listen to them giggle with delight as Mommy and Daddy climb into the bed/ark filled with stuffed animals with the rest of the family as the flood waters rise.  Make the Bible an experience that helps your kids love God and you more and more every day.
Desiré is a stay at home mom to two precious boys, Isaac (3) and Silas (2).  She and her dear friend, Jen, blog at 

When You Rise

 about fun ways to teach kids the Bible, as well as some parenting lessons they're learning along the way.  You can also find them on 

Facebook

 or 

Pinterest

.