Welcome to my first blog swap!!
When we used to go out to eat more often, I had a special "restaurant bag" filled with activities to do while waiting for our food. When I saw Jenn's Busy Bag, it reminded me of things I used to put in my bag. Today, she is going to share some ideas with you!
Hi everyone! I'm Jenn from Delicious Ambiguity and I am so excited to be swapping blogs with Stacie today.


First let me tell you a bit about myself: I am a twenty-something Canadian who used to teach English as a Second Language in South Korea and Thailand. Nowadays I am a stay at home mom to a very busy and clever twenty-one month old boy, K, who keeps me on my toes! We are currently living in Sydney, Australia and trying with great difficulty (and very little success) to not take on the slang or talk like we have marbles in our mouths! When I'm not busy baking, crafting, creating, procrastinating from cleaning, wiping butts and toddler wrangling, I am a self-confessed blog-a-holic.
Here's what I blog about each week:




One of the things I am working on at the moment is making a busy bag for my toddler. If you aren't familiar with a busy bag it is a bag full of educational activities that will keep kids busy when you are out and about or when you are home and need to get things done.

Here's the activities that we had in our busy bag last month: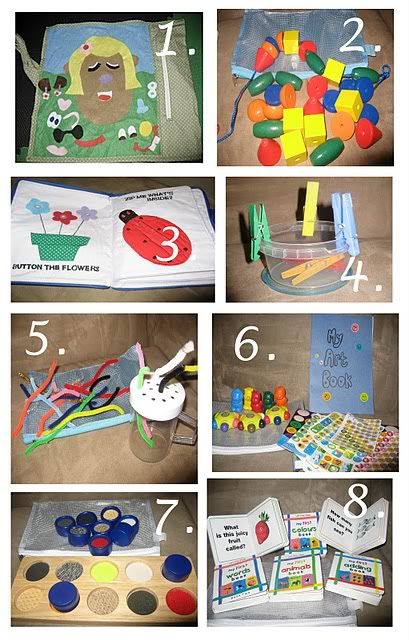 1. Roll-up felt board and felt faces activity
2. Lacing beads-can also be used to sort shapes and colours
3. Quiet Book
4. Container and Pegs-practice putting the pegs onto the container, practice emptying and filling it or use it as a shaker to make music.
5. A shaker and pipe cleaners-practice putting the pipe cleaners into the shaker, use the pipe cleaners to bend into shapes or sort by colour.
6. Craft Bag-crayons, stickers and a notebook.
7. Wooden Texture Matching Game
8. Mini Lift-The-Flap Board Books
9. Wooden animal magnets and a cookie sheet
10. Punch balloons and face stickers-practice making faces or have punching practice with the balloons
11. Plastic bottle and pom poms of different colours and sizes- empty and fill the bottle or sort poms poms by size and colour
I will be posting new activities that are in our bag each month. I also have a growing number of ideas submitted by my readers. If you need some more inspiration to start your own busy bag or have a few ideas of your own that you'd like to share, please stop by my Toddler Busy Bag Resource. We've got over one hundred links and still growing!
I hope you'll stop by Delicious Ambiguity and say "hi". Thanks for having me today Stacie!