Have you noticed I'm still behind on posting the activities we did for God's Little Explorers, Week 11?
Well, I am!  We've done two days, but we have two days left to do!  If you are ready for week 11, the lesson plans are up–I just haven't posted any photos from our activities.
As far as plans for next week, I won't be posting any, because I figured there was plenty going on with Thanksgiving next Thursday!  You probably have quite a few activities you want to do with your little ones before Thanksgiving, but if you need some Thanksgiving craft ideas, you can find all of ours here.
Anyway, the reason I've been so far behind is this….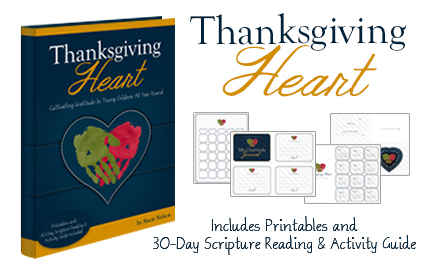 Woohoo!  It's a new eBook I've been working really hard to finish up to share with you next Monday!  Though Thanksgiving is in the title, it's not really about the holiday.  It's a book straight from my heart–a faith-filled book about giving thanks in ALL things at ALL times, and it includes super-practical ways you can begin to cultivate the habit of gratefulness in your family.  Besides simple activities, it also includes four printables, 30 service projects, 15 discussion starters, and questions at the end of each chapter to help you make application to your own life.  My hope and prayer is that through the book you will be inspired and ask God to grow in you and your family a Thanksgiving Heart!
Please check back Monday, when I officially "launch" the book.  In the meantime, you can read more about it or even purchase the book early!  
Also, if you read it and find it helpful, or if you want to help me spread the word, please consider becoming an affiliate or sharing about the book on Facebook, Pinterest, or Twitter (with the hashtag #thanksgivingheart)!