A few weeks ago, my sister and I had a Frozen party to celebrate my niece's birthday (she's 4!!) and my middle daughter's birthday (she's 8!!).  The initial plan was to have some sort of Frozen cake made at a local store…but then I got this wild idea to go look on Pinterest.
Oops.  Bad idea.

After my daughter saw these beautiful Anna and Elsa cakes, I knew the store-bought cake would be a no-go for her.  I was right.  We went in and looked at their Frozen cake designs, but I could not convince her to go with one.
Now, I actually like making cakes (here are some other DIY cakes I've made), so I was up for the challenge.   I won't say that I'm a professional at all…I've just been fortunate enough to cover my mistakes with a nice amount of frosting and/or candy!  Honestly, I was a little worried about attempting these cakes.  The Anna and Elsa cake video tutorial was cutesy, but at just seven minutes long, I can't really say it helped me with all of the problems I ran into making these cakes!  So, I thought I'd share some tips and advice.
Anna and Elsa Cake Recipe and Tutorial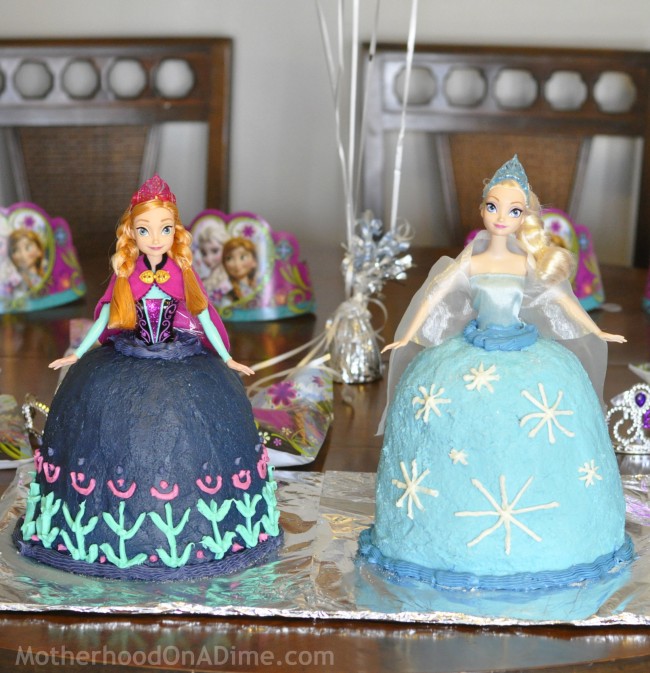 Supplies:
Two cake mixes per cake (2 for Anna, 2 for Elsa)
10-14 cups of frosting in all or 5-7 cups per cake (this really depends on how thick you layer your frosting and the type you use)
Pampered Chef Batter Bowl (2 Qt) or any other 2 qt style batter bowl
Elsa Doll (I had to do a lot of looking for this doll.  I recommend starting your search a while before you need to make the cake–instead of just two days like me!)
Anna Doll (yes, my husband likes to point out that this was a pretty expensive cake, but we just gave the girls the dolls as part of their birthday presents!)
Frosting tips and bags
Base for the cakes
1)  Bake one cake mix in a Pampered Chef Batter bowl or similar dish.  You'll need to set your oven at 325 degrees and bake it for about 60 – 65 minutes (until a toothpick inserted comes out clean).  Bake the other cake mix in two 8″ round pans following the cake mix directions.  Be sure to grease and flour your bowl and pans well.  Allow the cakes to cool completely.
2)  Invert 8″ cakes and place one on top of the other with a thin layer of frosting in between to hold them together.  Invert the bowl cake with the dome (rounded) side up.  Place on top of 8″ cakes with a thin layer of frosting.  Use a knife to cut around and even up the edges of the cakes.
3)  Cut a 2″-3″" circle from the middle of the cake.  I just eyeballed it, but you can use a biscuit cutter if desired.  I also recommend putting your doll in to test the height of the cake.  Wrap the bottom part of the dolls with plastic wrap to keep them from getting dirty.  It is much easier if you get the kind of dolls with removable skirts and a painted top!  You'll also want to take off the capes.  Once you're sure the cake is tall enough, remove the doll.
3)  Spread a layer of frosting over the cake to make a crumb coat.  Place the cake in a freezer for about an hour.
4)  Tint frosting with desired color/s.  When the frosting has hardened, pull out the cake, push the doll down into the center, and do a "top" coat for the skirt.  You may need to pull up or have someone hold the doll's hair while you are frosting it.  To smooth the skirt a little bit, I put the whole cake (doll and all) into the refrigerator for about 15 minutes after doing the top coat.  Then, I used plastic wrap to gently smooth it.  Decorate the skirt as desired.  Put the cape back on to finish.  You might want to consider lining it with plastic wrap on the bottom if you don't want frosting on it.
5)  Repeat with the second cake.  I found it easiest to do one cake at a time, but some of you may be more talented and can complete more at once!
Before I started decorating them, I put the cakes onto a piece of heavy-duty cardboard covered with foil since that's all I had around at the time.  These are very heavy cakes, so be sure your base is sturdy.  Transporting these to my sister's house in the country wasn't fun.  I'm sure we were quite a sight traveling down the bumpy gravel road at 5 mph!
You may also notice this Elsa looks slightly different from the one I recommend.  I had to make do with the only Elsa doll we could find, so I had to make my own top and cover-up from material we had around the house.  Also, you can't really tell in the photo, but I did add some sugar sprinkles to make Elsa's dress a little more sparkly.  Sparkly is important around our house!  🙂
There you go!  Elsa and Anna Birthday Cakes!!  Let me know if you have any questions or I missed something important!
Find more Frozen party ideas.