Each Thursday, I will be reposting our lessons from last year.  If you want to follow along with us, we'd love to have you!

Considering purchasing the complete download of God's Little Explorers?  You can find out the top 10 differences between the weekly free preschool lesson plans and the complete download here.
Welcome!  Here are this week's lesson plans.  You can find the printable plans at the bottom of the post.  If you'd like to know more about God's Little Explorers Preschool Curriculum, head over here.  Please feel free to share your ideas in the comments or send me an email!  Also, if you find any errors, please feel free to let me know.  This is a work-in-progress!!
God's Little Explorers Week 13
Theme:  "J" is for Jesus (+ Candy Canes)
Bible Story:  Birth of Jesus
Bible Verse:  "For unto us a child is born." (Isaiah 9:6)
Letter:  J
Number:  8
Here are a few activities we did:
I bought several different kinds and sizes of candy canes.  My daughter sorted them, counted them, and made patterns out of them….and snacked on them!  We also talked about how a candy cane looks like a "j" when you turn it upside down!
We made a quick Nativity scene to review our Bible verse.  Just add craft sticks, hay or yarn, a rectangle for a blanket, and a circle for a head.
I drew an eight.  Then, my daughter cut small white and red pieces of construction paper and glued them around the number.
We used the printable (available in the download below) and played a quick review game.  I made the sound of a letter and Sunshine put a candy cane on the correct letter.  You could also change this up by having your child say a word that begins with the letter or asking them to say the name of the letter (instead of the sound).
We made these silly little Nativity snacks!
My daughter cut strips of red paper and glued it to the j printable (included in the packet below).
I wish I could link to one of these Nativities we have at our house, but I can't find them anywhere!  I think it's a great idea to have a Nativity that children can play with (no worries about breaking these)!  You can also search for Nativity blocks and find some great ideas…or check out our magnetic Nativity scene (includes a link to a printable Nativity).
Finally, I found this candy cane poem and make a little printable so we could attach a mini candy cane and hand them out to friends!
Other ideas:
Recommended Resources: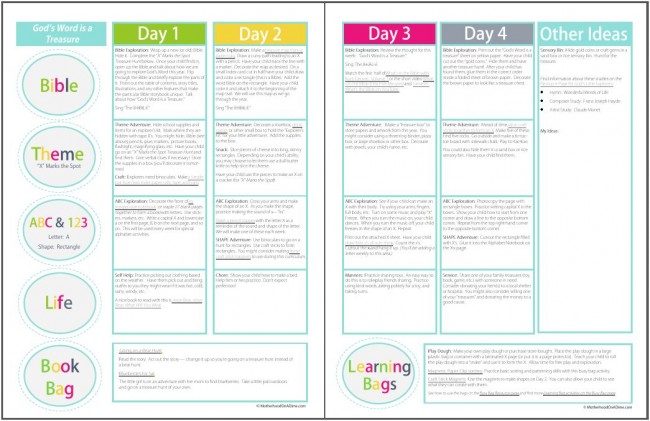 For now, here are the lesson plans for God's Little Explorers Week 13.  Photos to follow…