Monthly contributor post from Kristen at Celebrate Every Day with Me:
All year, I have been wanting to throw an Election Party.  But truth be told, I just can't do it given this particular election.  So even though there will be no official party in my house, there is still a great opportunity to teach my children about our election process and the importance of casting one's vote.
One way I am involving my kids in this election is by making our very own ballot box and inviting the kids to vote for candidates at the various levels of government.  Would your kids like to take part?  Here is how you can take a simple Kleenex box and and transform it into a ballot box.
This is What You'll Need:
One Kleenex Box
Red, White & Blue Paint (I chose blue spray paint because I am a spray paint junkie and love that stuff.  But for the red and white stripes, I used acrylic paint.)
Small Paint Brushes
Painter's Tape
Alphabet Stickers or Vinyl with a Cutting Machine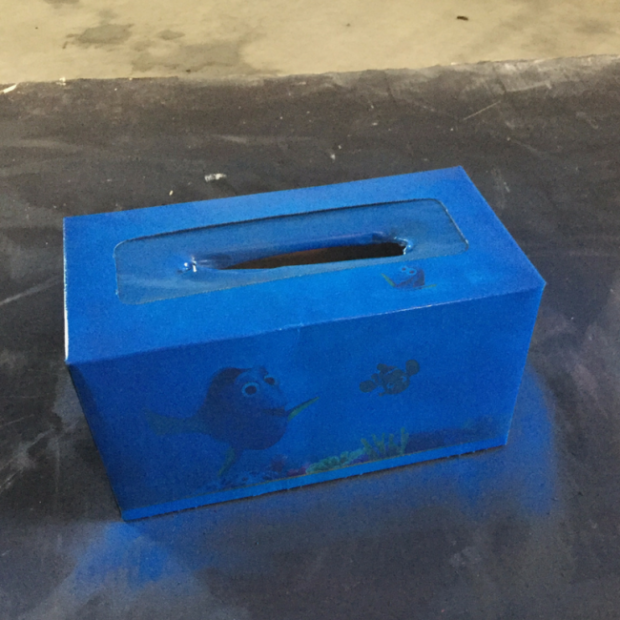 Start by painting your Kleenex box.  I was sorry to say goodbye to Dory & Nemo (from our Finding Dory Birthday Party), but it was the best sized tissue box in the house.  I put several thin coats of blue spray paint on the box so that the image didn't show through.
Next, decide how thick you want your stripes to be and put the painter's tape on the box to give you a nice, clean line.
Paint your red and white stripes and carefully, remove your tape.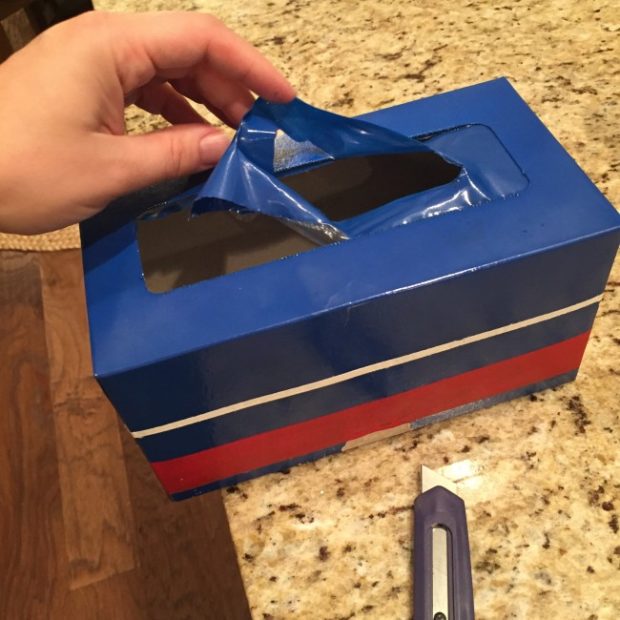 Remove the tissue box liner.  I left the plastic lining on throughout my spray painting, but now it was time to come off.  Use an x-acto or retractable utility knife if you are having trouble removing the liner.
With the box all painted and dry, you are now ready to add your "Ballot Box" text.  Grab your alphabet stickers or a scrap of vinyl and cutting machine.  I have a Silhouette Cameo and use it for everything (parties, crafting, school projects, home decor…it is very versatile.)!
Put your letters on the box and you are done!  I also added a "Vote Here" sign because I liked the way it looked, popping out of the Kleenex box.
Do you talk to your kids about the election?  How do you teach them about the importance of voting?
Kristen of Celebrate Every Day With Me is a fun-loving mom to two kids who keep her busy and laughing. Add her great husband and the Lord to the mix and her life is one fantastic (and sometimes crazy) adventure. She is a former youth leader, professional wedding and event planner and has a degree in Christian Thought/Christian Ministry. She loves long lists, diet soda and playing jokes on her husband.

Kristen is the author of Teach Me To Serve:  99 Ways Preschoolers Can Learn To Serve & Bless Others.  On her blog, you'll find fun ideas for children's activities, creating memorable moments and party planning.