I knew this would happen.
I loved every single post that linked up with us last week on Make and Do!
I just have to do it. I have to share them all! So as not to overwhelm you, I'll be sharing some here and some over at Motherhood on a Dime!

Wow! You have to head over to Child Central Station to see the amazing instruments they made out of recycled items! That backyard is magical place!
Leaning, Loving, and Learning My Way Through Life has the most precious game of Memory I have ever seen! I will definitely be making a set of these.
Preschoolers love pranks! Head over to Fumbling through Parenthood to see this "shampoo"!
This is such a whimsical idea at Having Fun at Home! The girls would absolutely love to make these hat magnets and "paper dolls"!
I love parachutes, but I've never thought about getting one of my own. However, after seeing the marvelous activities over at Messy Kids, I might just need to invest in one!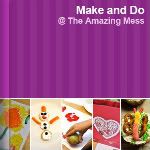 Okay…now it's your turn! Just a few rules:
No giveaways or links to your homepage — please link to your specific post.
This linky is open to any family-friendly activities, projects, and recipes (posts deemed inappropriate will be deleted).
Make sure to link back to The Amazing Mess — it's just good blog etiquette! I've included a button you can place on your post. Just grab the HTML! You're also welcome to share a text link if you prefer!
Try to visit and comment on at least one or two other posts! It's always encouraging to receive comments!
(If you're viewing this via email, head over here to link up!)