I am so excited and encouraged to be part of a group of lovely ladies forming the iHomeschoolNetwork and this 10 in 10 Blog Hop!  Over the next ten Tuesdays, I'll be sharing some of my top 10 lists on topics pertaining to homeschooling…and life!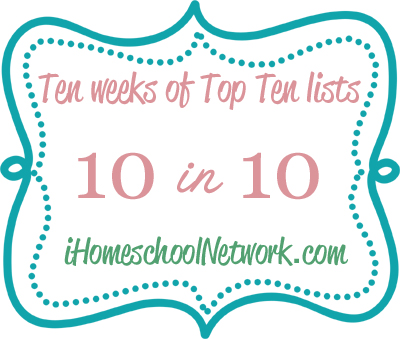 You can visit all the other 10 in 10 Lists over at iHomeschoolNetwork!
Here are a few of my favorite websites for homeschool:
This is the website for My Father's World homeschool curriculum.  I've been using this for four years, and we love it.  In addition to the curriculum, you can find a message board with lots of ideas.
Currclick is one of my favorite place to go for downloadable resources!  Each week, there is one featured freebie, but there are lots of other freebies to download.  The prices are pretty reasonable on most other downloadable books and curriculum, too.
Currclick also features online classes and clubs.  Some are free and some require an additional fee.
This is probably not a typical favorite website for homeschoolers, but keeping myself and my family organized is essential.  This site is great for keeping track of each person's schedule (everyone has their own color dot!) and sending you email reminders for what is going on during the week.  It also has a handy little free app for your phone (I'm using the T-Mobile version, because the regular version seemed to slow down my phone too much).
If you don't use Motivated Moms or some other chore chart planner, you can also get the FlyLady Cozi Calendar to keep you on track with household cleaning!
Now that I have a Kindle, I am downloading eBooks like crazy!  There are so many free ones — including tons of classics.  I try to regularly share freebies I find in the deal section of MotherhoodOnADime.com, but you can also go to the top 100 free eBook list.  I also like to look through the 100 top free Kids eBooks.  Even without a Kindle, you can download a Kindle reading program for your computer and just read them right on your screen.  There's an app, too!
Documentaries and other free shows are available through Amazon Prime Instant Video (you can see my review here).  Amazon Prime has definitely been worth the cost of membership — free 2-day shipping, extra savings with the Amazon Mom program, a free Kindle book loan each month, and over 14,000 free shows and movies for $79 per year.
While you need to be careful on this site, you can find lots of amazing how-to videos.  We watched a butter-making how to, an elephant painting(?!!), and various other videos to go along with our themes.
Completely random, but we watched an old Pillsbury Dough Boy commercial a few weeks ago, because the girls had never heard of him!  I think it all started when I poked one of them in the stomach (gently, of course) and told them to laugh like the Pillsbury Dough Boy.  
I've become a big fan of this spelling program.  After I reviewed the Preschool Reading Program, I went ahead and bought the first two levels of the spelling program.  We love it!
I also love this site for the free downloadable reading and spelling resources.  The newsletter and blog are also worth subscribing to.
I used Hubbard's Cupboard online curriculum when my girls were two and three.  I love her themes and the simple lesson plans for an at-home preschool program.
This site offers all kinds of unit studies and lapbooks.  You can search for almost any theme and find tons of free resources and ideas.
A free curriculum site I love is Ambleside Online!  The curriculum seeks to stay faithful to a Charlotte Mason educational approach.  You'll find excellent booklists and free weekly curriculum guides.
There are hundreds of free downloadable audio books on this site.
——————————————————————————————————-
Of course, after I finished up, I thought of a few more….Pinterest, WeGiveBooks.org, and Project Gutenberg!
What did I miss?  Feel free to comment with your favorite site!
If you have a blog, feel free to write up your own Top 10 List and link up over at Many Little Blessings on the Top Ten Tuesday post.