Several people have asked what preschool curriculum we use! I don't actually use one specific curriculum, but I just pick and choose ideas to go along with my weekly theme. With that said, I do know that often it is easier to have something already planned and laid out for you. While I don't believe preschoolers need a formal curriculum (gasp!), direction is sometimes helpful.
Here are several of my favorite preschool curriculum options:
Erica from Confessions of a Homeschooler has a complete "Letter of the Week" curriculum available for download for just $10! You can also search her site and find the links for free (if you want to take the time to do that), but it's easily worth $10 to have the complete set (over 1500 pages) on your computer! Even if you aren't looking for curriculum, check out her site! It is beautiful, well-designed, and full of great ideas!
Laura at Heavenly Homemakers has just recently released a complete curriculum entitled "Learn Your Letters…and Learn to Serve." I LOVE her idea of a service project for your family every week! The curriculum includes: Learn Your Letters, Learn to Serve Book of ideas, instructions, recipes, tutorials and service planners – Alphabet Practice Packet – Alphabet Project Packet – Memory Verse Packet – Parent Planning Packet. Laura also blogs about menu planning, recipes, gardening, and more!
Now is a great time to buy the "Learn Your Letters, Learn to Serve" curriculum. Click this link and put the code BACK2SCHOOL in your shopping cart to receive 20% off (offer good through Thursday, August 12th at 11:59 PM CST)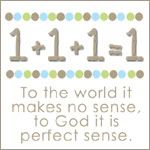 Carisa at 1+1+1=1 has a wonderful free preschool curriculum called Raising Rock Stars. The curriculum is a journey through the Bible. Carissa offers tons of free printables and activities (and I love her posts about photography) on her website! Take some time to check it out, it is well worth it!
I have used ideas from Hubbard's Cupboard since my oldest was two! It is a free curriculum with printable lesson plans for 2-5 year olds! The 2-year-old curriculum is thematic (I have used it with my 3 & 4 year olds as well). There is also Bible and Rhyme for 3-year-olds and Joyful Heart Character for 4-year-olds.
Whew! There are so many resources out there, it can be a little overwhelming! No matter what you choose to do, remember to take time to play together, read together, and have fun making memories together!