The focus this week is on names — identifying, tracing, and hearing the beginning sound. We'll start off with an easy game to teach the letters in your child's name. The game is made using those lids you've been saving. If you don't have lids, don't worry! This game is easily adaptable. You could use a variety of things: craft sticks, flashcards, Scrabble tiles, etc.
You need:
Permanent marker
Lids (or whatever else you choose)
Index card or scrap paper
1. Program a supply of lids (or whatever else you're using) with the letters from your child(ren)'s name(s) and your name.
2. Put the lids facedown in the middle of the playing area. Take turns having each person draw a letter. If the letter is in the player's name, she keeps it. If not, she puts the lid back in the middle.
3. Each player "wins" when they have all the letters to form their name. To make this game easier for your child, write his or her name on an index card and have it close by for reference.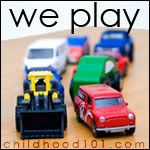 "Come play at the Childhood 101 We Play link up"