A friend of mine recently hosted a Busy Bag Swap!  We had about 15 people take part, and it wasn't too challenging to set up.  The main thing you need is a place to have the swap, people to participate, and ideas for activities to swap.
Here's how we did it:

1)  First, we set up a date and time and made a Facebook event page.  We invited friends with little ones.

2)  Each person who decided to participate picked a busy bag they wanted to make and let everyone else know what they had picked — we didn't want anyone to do the exact same activity!

3)  Once we found out for sure how many were participating, everyone went to work to make that many bags of the activity they had picked.

4)  We met one day at a local church for about an hour to exchange the bags we made.

It was a little like Christmas to go home with so many new busy bags…that I didn't have to make myself!  🙂
Here are 16 Busy Bag ideas for a Busy Bag Swap: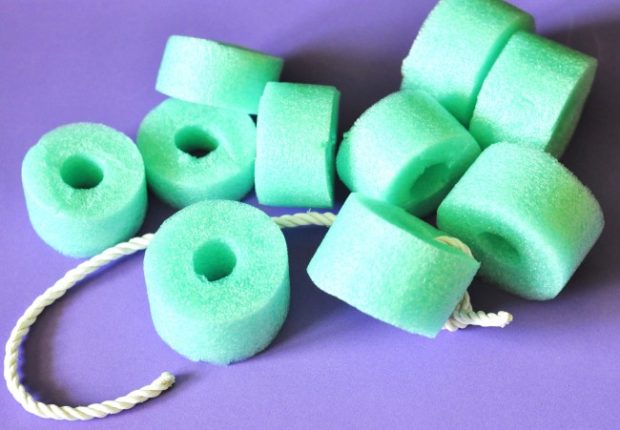 Cut up some pool noodles, give your child a length of rope (tie one of the noodles on the end of the rope, so they don't get frustrated by the pieces falling off), and let them string it.  If you have different kinds and colors of pool noodles, they could also do some patterning.
2)  Color Sorting
This busy bag uses items you have around the house.  Find items of various colors, make a color mat, and have your child sort the items by color.
These shape sticks were made with jumbo craft sticks and velcro dots.  Also, the colored dots give a visual clue for preschoolers and help keep the correct sticks together to form the shapes.  The lady who made these also included extra sticks with velcro for exploratory play.
You can also make magnetic craft sticks for shape play.
This busy bag involves labeling some clothespins with numbers and having your child match them to the corresponding number of dots on this printable number wheel pattern.
5)  Pasta Noodle Sort
You could dye the pasta noodles, but this is a much easier (and less messy) way to do it.  Purchase tri-color noodles and regular noodles.  Label some cups and have your child sort them.
6)  Pom Pom Stuff-It
Use a container with a lid and either cut a hole in it (and put tape around any sharp edges) or use a wipes container and fill it with pom poms.  Have your child dump them out and stuff them back in.
My friend Crystal, over at Money Saving Mom, has quite a few busy bag ideas.  One of them is this clothesline busy bag and it includes printable patterns!
You can also download Money Saving Mom's pattern for this cupcake busy bag.
9)  Bead Stringing
You can use a variety of materials for bead stringing.  This particular bag includes pony beads and pipe cleaners for stringing.  This is an excellent fine-motor bag.  You could also make patterns or sort by color.
This busy bag is a variation of this button snake.  I love what my friend did for this though!  She cut out felt shapes in rainbow colors to string onto the ribbon.  Once again, you could have your child sort by color, identify shapes, or make a pattern.
Using playdough and a balloon, this is a unique toy.  Find directions to make the wacky sack here.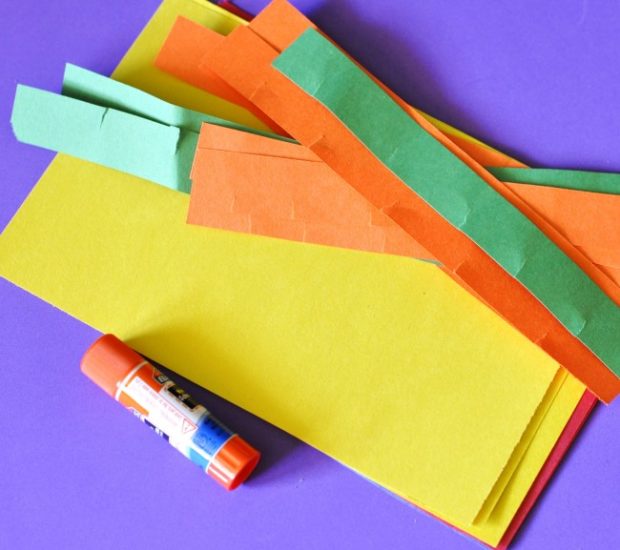 12)  Tearing Paper Busy Bag
This bag has several strips of paper with slight tears in them.  Have your child tear the paper and glue it onto the plain sheets of construction paper.
Find scissor skills busy bags here AND more in my free eBook:  Learning Bags, Baskets, and Boxes.
Cut several kinds of sponges and place in a bag.  Your child can stack these up to make towers or make patterns.
These are pretty easy to make (especially since there is no sewing involved), but I always recommend keeping an eye on your child when you have small magnetic pieces around!
15)  Number Beads
I was given a huge jar of wooden beads, so I decided to write the numbers from 1-10 with a permanent marker.  I used different colors for even and odd.  I also added +, -, and = signs so you could do some math fact practice in addition to stringing the beads by number onto the pipe cleaner.
16)  Water Bottle Stuff-It Busy Bag
This can be easily adapted to whatever you have on hand.  I was given some mini colored craft sticks, so I just stuck a few of them into a water bottle.  My almost two-year-old niece was entertained for quite some time by just sticking the sticks in the bottle and dumping them out.  You could also use beads, rocks, regular-size craft sticks, pipe cleaners, etc.
If you'd like more ideas, you can check out my Pinterest board with various busy bags and this page on my blog with busy bag activities ("learning bags" is my name for them).
Through November 21, 2012, get my NEW eBook, Thanksgiving Heart:  Cultivating Gratitude in Young Children, for just $1.99.