Written by monthly contributor, Kristen of Celebrate Every Day with Me: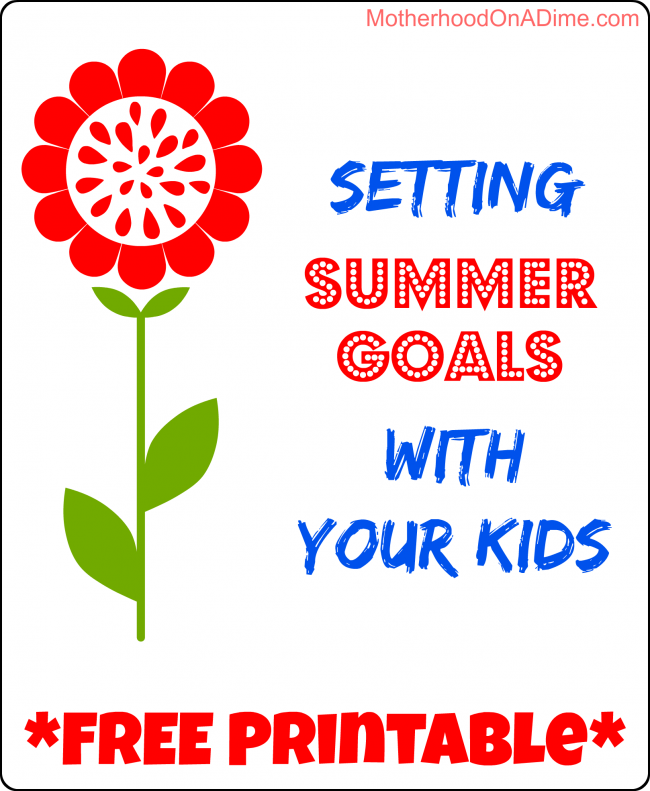 I am a huge goal-setter and list-maker.  I love having a plan and knowing where I am going . . . well, most of the time.  One thing I have never done, however, is write goals with my kids.
Being a big believer in letting kids be kids, I didn't want to overwhelm them or go crazy with a long list of goals.  But since it is summer and we'll enjoy so much freedom, I thought we'd work together to pick out 5 simple goals.  (I think my 6 year old son is ready for this, more so than my 4 year old daughter.  But she'll want to do what her big brother does, of course.)
We will be setting goals in these areas:  intellectual, physical, spiritual and service, plus an extra learning quest for fun.
Ideas for Intellectual Growth – read a certain number of books or amount of time each week.  Join a book club or sign up for your library's reading program.  (In this post, I talk about inspiring young readers and share a list of reading programs to join.)
Ideas for Physical Growth – Hike two new parks this summer.  Explore three new playgrounds.  Ride bikes a certain number of miles.  Think about what active things your child likes to do and build upon that.
Ideas for Spiritual Growth – Memorize a verse or passage of Scripture.  Read an entire book of the Bible or read a certain amount each day.  This may be a good opportunity to encourage daily quiet times for older children.
Ideas for Service – Help a neighbor with yard work.  Pick a local organization and save money or collect cans of food.  Call a charity and see if they have any special needs that your children can help with.  Check out my ebook, Teach Me To Serve for more ideas.  (The book is intended for preschool age, but the ideas can go beyond.  Use code THANKFUL and get 50% off the pdf copy.)
Learning Quest Ideas – While this ties in with intellectual growth, encourage your child to pick something they would like to learn about this summer.  Maybe they are in to space, animals or geography.  Help them pick something that will be fun and educational.  Then, scout out any local museums, attractions or exhibits that will tie in with their theme.  Go to the library and get out a book on the subject.  Enjoy watching your child learn about what interests them.
When setting goals with your kids, remember:  
Keep it simple.  Don't overwhelm your child with a task that they can't easily do.  We want them to enjoy setting goals, not be discouraged by them.
Be specific.  Help them write a goal that can be accomplished and recognized when completed.  Don't write a goal like "ride bikes all summer."  Give it more definition, such as "Ride bikes on the new trail through town."
Have fun.  Write goals that are fun and not boring.  Be sure to celebrate their accomplishments.
Have a great summer!
Kristen of Celebrate Every Day With Me is a fun-loving mom to two kids who keep her busy and laughing. Add her great husband and the Lord to the mix and her life is one fantastic (and sometimes crazy) adventure. She is a former youth leader, professional wedding and event planner and has a degree in Christian Thought/Christian Ministry. She loves long lists, diet soda and playing jokes on her husband.
Kristen is the author of Teach Me To Serve:  99 Ways Preschoolers Can Learn To Serve & Bless Others.  On her blog, you'll find fun ideas for children's activities, creating memorable moments and party planning.