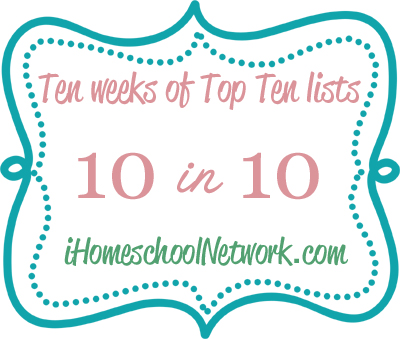 As part of the iHomeschool Network's 10 in 10 Blog Hop, I've written up this little post about ten random thoughts on my mind.  Truly, these are completely random!  Unfortunately, this is how my brain works most of the time!  Scattered…and random.  🙂
10 COMPLETELY Random Thoughts from Stacie:

"It's hard, but it's good.  It's good, but it's hard."  I heard this from Todd Wilson at our homeschool conference earlier in the summer, and it has stuck with me.  All kinds of things seem hard lately, but I remember that the hard things are good things.  Life is hard…but it's good.

My husband is amazing.  There are challenges in our relationship for sure, and we don't have a picture-perfect marriage.  But for all of the trials and troubles we've been through, I would do it all again.  He is an amazing dad, an attentive and gentle husband, and one of the nicest guys you'll ever meet.  I adore him.

Where in the world do all these clothes come from?  I don't know if it's just having three girls so close in age or what, but somehow I keep finding different clothes and outfits around our house.   I truly don't know where it all comes from.  It's almost like the clothing multiplies!!  I guess I'll have to do another clear the clutter challenge.  *sigh*

Vacationing with kids is not really a vacation for mom.  We just came back from a wedding/vacation in Colorado Springs.  It was one day of traveling (12 hours that day!), two days of sight-seeing and wedding-ness, and one day of travel back home.  While things went very smoothly and we had a good time, I still did most of the same stuff I do every day.  At this point in time, a vacation for me is not wiping behinds, giving baths, cleaning up messes, stopping fights, disciplining, listening to whining, and eating at McDonald's.  Someday I'll have a real vacation.  And yes, I will probably think back and miss these days.…

Why can't I find a cute, but modest swimming suit?  I spent hours and hours looking for one.  I was horrified at so many of them, I almost gave up.  The modest ones were so ugly…and the cute ones showed way too much!  I finally stumbled upon a tank style suit and swim shorts that are halfway modest, but I'm still not planning to wear it too often!  I just don't understand why it has to be such a pain.


I really need to start planning for school!  I can't believe July is halfway over!  I generally love back-to-school time, but it seems like the summer has flown by way too fast.  I'm procrastinating…

I think I might have adrenal fatigue.  Every night around 11 PM, I go into overdrive and start writing posts, cleaning, reading books, and absolutely cannot fall asleep until 2 AM — even though I need to get up early.  A friend gave me the book Adrenal Fatigue:  The 21st Century Stress Syndrome, and I pretty much made a self-diagnosis using the book.  I guess I should make an appointment and find out for sure.

P90x2 is going to kick my tail.  I borrowed P90X from a friend and did one round of that, but when P90X2 came out, I wanted to give it a try.  One of my 2012 yearly goals is to finish a round of it.  My husband and I are going to do it together over the next 90 days, but it's stinking hard…

Our dog is going to die soon.  My husband recently found a cancerous tumor inside our little dog Scooter's mouth.  He removed it but told me last weekend that he found another one in a place in Scooter's mouth where it can't be removed.  We've had this little guy for 11 years, so I'm pretty heartbroken (even though I get mad and yell because he keeps peeing on the floor in our house.  Thank goodness it's laminate).  Anyway, I keep thinking about how to tell the girls, when to tell them, and what to tell them.  🙁


Do I want to keep blogging?  Yes, this is a huge question for me!  I love blogging for sure, but all three girls will be homeschooled this year.  I'll be teaching my two youngest daughters to read and my oldest will be doing 4th grade.  I've been putting in 3-4 hours each day on this blog, and it just doesn't seem to be growing as quickly as I hoped.  I need to step back and reevaluate using my mission statement and see how/if blogging fits into the picture.  Maybe I'll just cut back my hours a little bit, maybe I'll just write a few times per week, or maybe I'll just stop.  I would definitely appreciate your prayers as I'm figuring this out!
See?  I told you.  Ten completely random things from my brain!
Do you have any random things on your mind?  Feel free to share.  I need some reassurance that I'm not the most random person in the world….
If you are a blogger, feel free to link-up your top ten lists over with Angie at Many Little Blessings!