Each Thursday, I will be reposting our lessons from last year.  If you want to follow along with us, we'd love to have you!

Considering purchasing the complete download of God's Little Explorers?  You can find out the top 10 differences between the weekly free preschool lesson plans and the complete download here.
Welcome!  Here are this week's lesson plans.  You can find the printable plans at the bottom of the post.  If you'd like to know more about God's Little Explorers Preschool Curriculum, head over here.  Please feel free to share your ideas in the comments or send me an email!  Also, if you find any errors, please feel free to let me know.  This is a work-in-progress!!
God's Little Explorers Week 16
Theme:  "n" is for Name
Bible Story:  Jesus Calls the Disciples
Bible Verse:  "…He called His disciples, and He chose from them twelve whom He also named apostles…" —Luke 6:13
Letter:  n
Number:  10
Because this week's theme is names, I didn't include very many pictures (I try not to post the girls' names on here, so that's why)!  
Here are a few activities we did this week:
Make the letter n in playdough.  If you have letter-shaped cookie cutters, this is the perfect time to use them (I highly recommend having a set, because you can use them for all kinds of activities)!
If you don't have any, just roll out the dough and form into the shape of a lower-case n.
While you have the play dough out, you can also try these play dough name puzzles.
This is an easy busy bag activity we did.  Just put your child's name on a notecard, cut the letters apart, and have them put it back together.  You can find the complete instructions here.
Obviously this is not my daughter's name, but I wrote hers with a marker and had her trace over it in a variety of colors for a rainbow name tracing activity.
Take time to write a letter to your child about how you picked his or her name and why they are special to you.  I actually did this quite a while ago for my girls, but they still treasure those letters!
Making letter cookies is always fun–and they loved seeing their names in cookies (and making their dad's name, too)!
Craft stick name puzzles are simple to make, and adding the letters of your child's name on the bottom makes it easier to figure out how to put the puzzle back in order.
Other Ideas:
Resources: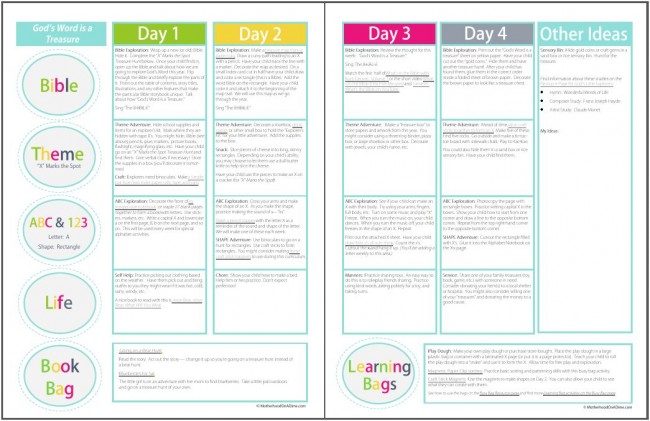 Download God's Little Explorers:  Week 16 lesson plans.

—————————————————————————
Want to be sure you get the printable lesson plan each week? Consider signing up for my Motherhood on a Dime complete daily email with coupons, deals, recipes, kids' activities and more.
If you'd rather receive just my KIDS newsletter with 3-4 kid-friendly posts each week via email, subscribe here.
P.S. You don't have to subscribe to both! If you sign up for the complete email, you'll get the kids' activities, too.
Linked up with Homeschool Creations Preschool Corner.