Each Thursday, I will be reposting our lessons from last year.  If you want to follow along with us, we'd love to have you!

Considering purchasing the complete download of God's Little Explorers?  You can find out the top 10 differences between the weekly free preschool lesson plans and the complete download here.
Welcome!  Here are this week's lesson plans.  You can find the printable plans at the bottom of the post.  If you'd like to know more about God's Little Explorers Preschool Curriculum, head over here.  Please feel free to share your ideas in the comments or send me an email!  Also, if you find any errors, please feel free to let me know.  This is a work-in-progress!!
God's Little Explorers Week 6
Theme:  "C" is for Colors
Bible Story:  Joseph
Bible Verse:  "And we know that in all things, God works for the good of those who love Him, who have been called according to His purposes."  Romans 8:28
Letter:  C
Number:  1
Here are a few activities we did:
We read the Bible story and made a "coat of many colors" from a grocery sack and lots of paint!  The girls ended up painting just the front as it took a little bit longer than I expected.   We used brushes, but I think fingerpainting would work pretty well with this, too.
The girls made Joseph and his coat of many colors on a lunch sack.  They cut apart fabric scraps and glued them down.  Later, I had them retell the Bible story with the puppet.
Another day when we read the story of Joseph, we talked a little bit about God's purpose and plan for his life.  Even in the midst of terrible circumstances, God's purposes prevailed.  The girls played with our rice (and noodle) bin as we talked about Joseph and the famine and storing grain.
Based on this color and shape review activity, I had my daughter trace the letter c in various colors on the paper (the printable is included in the download).  Then, she used watercolors to paint the corresponding c.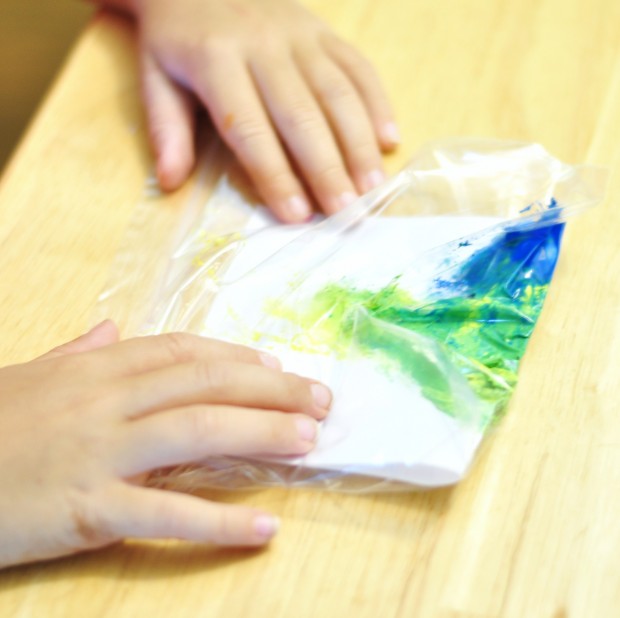 I like to use the books Mouse Paint and Color Kittens when we learn about mixing colors.  After reading, we put a piece of paper, a squirt of yellow paint, and a squirt of green paint into a plastic baggy.  I sealed it up.  The girls pushed the paint around until it blended.  We repeated the process with red and blue — and also red and yellow.
In our alphabet book, my daughter stamped the letter c all over the paper.  Here's an easy way to make a stamp if you don't have one.
We played Candyland.
Finally, several of you have asked why I don't have a stronger handwriting component in our lessons.  My philosophy is to strengthen little hands with fine-motor activities before beginning to write.  I know many of you are using this with younger children (ages 2 and 3), so I would highly recommend just letting your child explore and not have formal handwriting lessons.  For those with four or five-year-olds (who are ready), you may want to just get a simple beginning handwriting book (we are using Usborne's Wipe-Clean Ready for Writing) and teach some basic formation skills as we go along.  Again, that all depends on whether your child seems to enjoy it and wants to do it.  I am not a fan of making a preschooler write the same letter over and over again.
In general, my advice is to give your child plenty of multi-sensory opportunities to learn how to form letters in sand, paint, shaving cream, salt, etc.
More ideas and activities:
Books and Resources:
Download God's Little Explorers Week 6
—————————————————————————
Want to be sure you get the printable lesson plan each week? Consider signing up for my Motherhood on a Dime complete daily email with coupons, deals, recipes, kids' activities and more.
If you'd rather receive just my KIDS newsletter with 3-4 kid-friendly posts each week via email, subscribe here.
P.S. You don't have to subscribe to both! If you sign up for the complete email, you'll get the kids' activities, too.