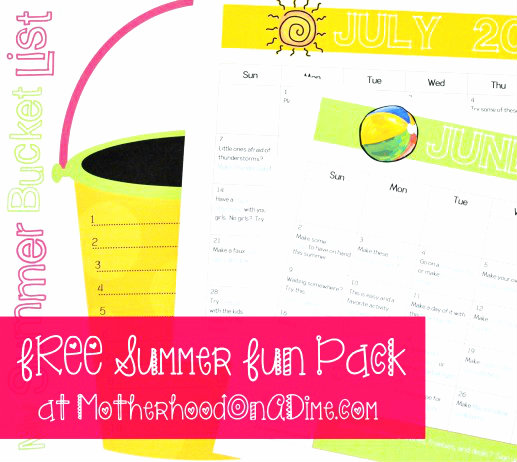 Free Summer Bucket List Printable
Whew!  We finished our last week of school, and I'm ready to be finished (although math and reading continue throughout the summer)!!  The girls and I have gotten in the summer spirit…and started brainstorming and compiling ideas for a Summer Bucket List!  If you aren't familiar with this, it's simply a list of fun ideas we want to do this summer.  Here is out list from a few years ago.
If you are interested in making your own, read on to see how you can get a "Summer Bucket List" printable!
************************************
FREE Summer Activities for Kids
I've also had several emails and comments asking me if I would post another Summer Fun calendar to go along with the activities I shared  during the 101 Days of Summer Fun for Kids series!  To that end, I've made two calendars for this summer, added the Summer Bucket List printable, and made them all available for everyone!  Nope…you don't have to subscribe or like my Facebook page or anything (although if you want to, I would love to get to know you)!
The calendars are simply a collection of activities we've done over the past few years–like making Campfire Cones, going on a Park Hop, and 59 other ideas!
Included in the Summer Fun for Kids printable pack:
June 2015 activity calendar
July 2015 activity calendar
Summer Bucket List printable
PLEASE DOWNLOAD the calendars and printable Summer Bucket pages below———->
2015 Summer Fun Kids Activities Calendars and FREE Printable Summer Bucket List
Click the link above, and you'll find the free Summer Fun Pack!  Be sure you have Adobe Acrobat installed to access the calendars, bucket list, and links.
Interested in freebies, deals and more kids activities through the summer? You can sign up for daily emails and get my free Home Management Binder printables.

Not into deals?  I also have a Homeschooling on a Dime website and a faith, fitness, food, and family site at FaithfullyNourished.com!

I hope you enjoy!  Here's to a fun summer!!!