For the final post of the iHomeschool Network 10-in-10 Blog Hop, we're supposed to share ten things about ourselves. I ran across a note I wrote on Facebook a few years ago (before I ever even thought or knew about blogging), and I thought I'd share it. It had twenty-five originally, but some of them were outdated!! I guess I've changed over the years… 🙂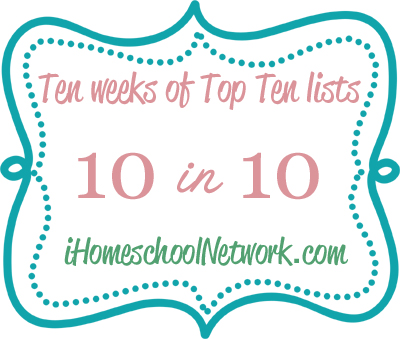 Twenty Things You Might Not Know About Me!
1. I had my first plastic surgery when I was two years old…and two more since then. They were all to "fix" the birthmark under my left eye. The scar used to bother me, but it's just such a part of me, I don't even notice it anymore.
2. I lost my dad when I was 26 years old and 5 months pregnant with my first baby (and my parents' first grandchild). He was only 49. It was very traumatic for me at the time (and still is some days). I wrestled with my faith in a way I had never done before. Suffering has a way of doing that I guess. My biggest wish is that he could meet my three little girls. Oh, how he would adore them.
3. I can't imagine my life without my husband. There is no one I could ever love as much as him. He protects, provides for, and encourages me. He is an amazing dad. He has shown me that there are excellent men in this world.
4. I suffered severe postpartum depression with two of my three babies. I am now a very big proponent of getting help – and quickly. It's nothing to be embarrassed about. After my third baby, I felt so good, I couldn't believe the difference! So if you ever find yourself in that position – please get help – for your baby's sake and your sake!
5. I am a firstborn. I am married to a firstborn. We have a firstborn daughter. There is a battle of wills in our household regularly!
6. My third pregnancy was a complete surprise. The seventeen month span between my middle child and the birth of my youngest didn't seem like enough at the time, but I wouldn't have it any other way.
7. I saw all three of my babies on veterinary ultrasound equipment!
8. I wasn't sure I wanted to be a stay-at-home mom. After lots of thinking and praying, I was actually persuaded by a book entitled "Home by Choice" by Brenda Hunter. I highly recommend it. Sometimes, when I'm having a bad day, I pull it out just as a reminder.
9. Since I was a freshman in college, I have sponsored a child through Compassion International. Compassion is a great ministry to support. They are good stewards, and the money helps children learn about Jesus and the Bible, go to school, eat, and have shelter and clothing. We get pictures and letters from our sponsored children on a regular basis.
10. I spent a couple weeks in Haiti on a veterinary mission trip. I, however, did absolutely no veterinary work. Well, I tried to assist, but mainly played with the kids and took pictures. To hear the most amazing songs of praise to God sung by people in extreme poverty was a challenge to my soul. Also, we went to an orphanage and met a little baby in a town whose mother had died of AIDS. It was at that point, I began to feel a calling from God. I still don't know how it will all happen, but at some point, I believe we may adopt. Until then, we continue to support adoptions through Show Hope.
11. I took up running (i.e. jogging) when I was 32 years old. I've never really been a runner — or even a fan of exercise, but I've completed two half-marathons since then. Since becoming a mom, I've needed the outlet exercise has provided!
12. I have been to Haiti, North Africa twice and Germany, Austria, and Switzerland (on a choir tour). I love traveling internationally and hope to get more stamps on my passport – except it's expired, so I guess I will have to get a new one!
13. I am extremely allergic to kiwi. If you want to kill me, just serve me kiwi.
14. I had an allergy scratch test done and my back was one huge red hive. Well, I'm exaggerating just a little, but I was allergic to every outdoor/environmental thing they tested me for. I also found out at 29 years of age, I was allergic to peanuts. I ate peanut butter and peanuts my whole life, but now I can't. I miss peanut butter cups and peanut butter cookies!
15. I like to roller skate.
16. I love to play board games…and get a little competitive sometimes.
17. According to Myers-Briggs personality test, I am an INFJ. I have been that type every time I have taken the test since high school. I have seen several different words to describe this type – idealist, confidant, and protector – with idealist probably summing me up best.
18. I am a perfectionist (a discouraged perfectionist when it comes to keeping my house clean)! I shy away from doing anything I don't think I can do fairly well.
19. I have a minor in music, but haven't done anything musical since college. I still dream of making a CD though!
20. I couldn't think of anything to put for this one, so I asked my four year old what I should write. She said, "Tell them you have Jesus in your heart and you love God. Tell them you don't wear dresses. Tell them you like to drink coffee."
Have you own top ten list?  Don't forget to link up with Angie over at Many Little Blessings!
Here are my other posts from the 10-in-10 Blog Hop: